By Gail Schontzler Chronicle Staff Writer
Bozeman Daily Chronicle, August 19, 2015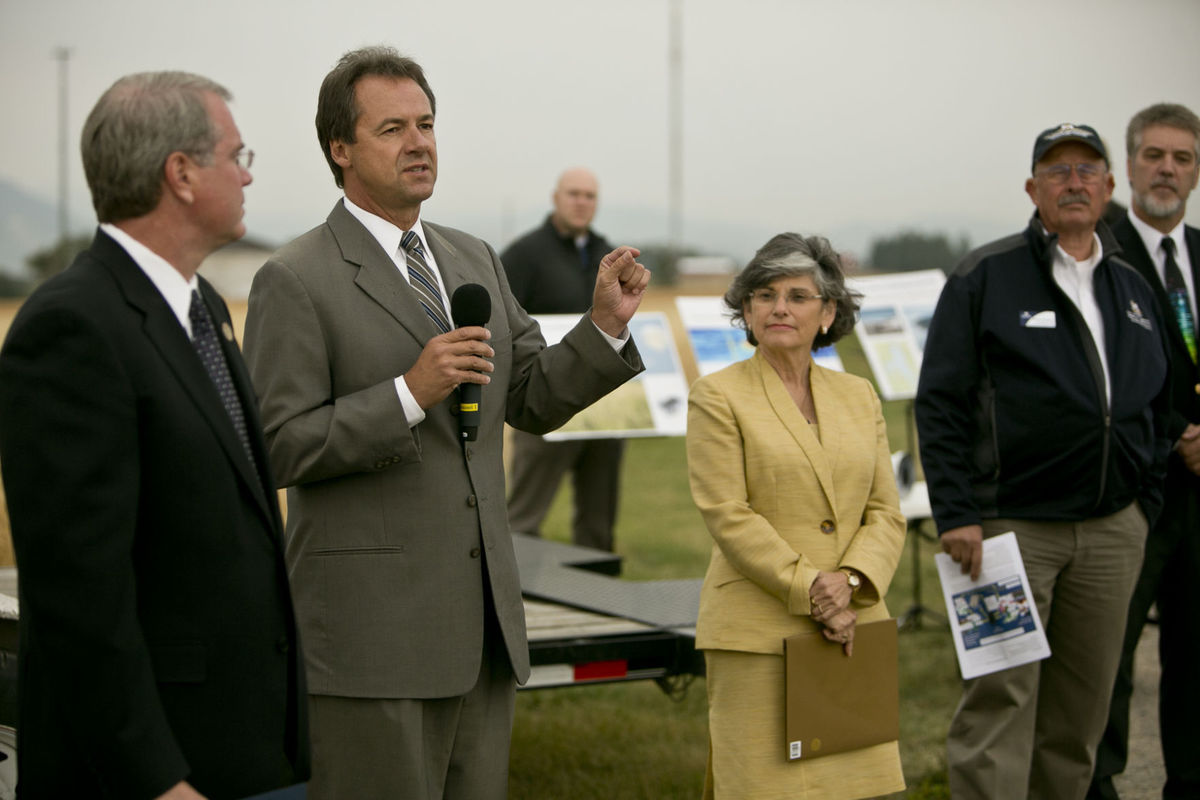 Photo by Adrian Sanchez-Gonzales/Chronicle – Gov. Steve Bullock, second left, addresses a group of Montana State University researchers annoucing the recipients of grants on Tuesday at the MSU Post Farm near Bozeman.
Gov. Steve Bullock traveled to Bozeman and Missoula on Tuesday to announce the winners of the first grants from Montana's new $15 million investment pool to support university research, create jobs and boost the state's economy.
Four grants totaling $8.3 million will go to scientists at Montana State University and the University of Montana to improve crop production, put high-tech optical equipment to new commercial uses, create better ways to measure water quality and improve treatment of traumatic brain injuries and concussions.
Under a cloudy sky, the governor declared the state's "one-of-a-kind, first-ever" investments would brighten Montana's economy and solve state problems. State government, higher education and industry are working together, Bullock said, and the projects "are having an impact across the state, not just in Bozeman and Missoula."
The announcement took place at MSU's Post Research Farm on Huffine Lane. MSU President Waded Cruzado said that was fitting because the money will "sow some very important seeds" that "we're confident will one day reap economic benefits for the people of the state."
"We're absolutely thrilled," said Renee Reijo Pera, MSU's vice president for research. "These are fantastic projects. I think it's a good step for the state of Montana but also for students. They need opportunities to stay in Montana."
Though the announcement included two winners in Bozeman and two in Missoula, Clay Christian, commissioner of higher education, said the projects were chosen without concern for which side of the state they came from. Christian said another four projects are close to being funded.
Barry Jacobsen, MSU plant sciences professor, won $2.27 million for his "precision agriculture" project to make farms and ranches more profitable and efficient by using data from satellites and ground sources to let farmers "develop a prescription for individual fields."
By using high-tech sensors, Jacobsen said, farmers will be able to target pesticides and fertilizers to specific spots that need it, instead of blanketing entire fields with chemicals. That, he said, can save millions of dollars.
High-tech sensors will also give farmers better data about soil moisture. Since the 1930s, Jacobsen said, farmers have thought they had to let some fields lie fallow each year to store moisture for the next wheat crop. Every year 4.6 million acres of Montana land lies unused.
But with better data, farmers can instead plant peas, lentils or other cover crops that use little water on the 4.6 million acres. Montana's production of peas and lentils has already grown to be No. 1 in the nation, which means there's enough to support one or two factories producing pea protein for products like protein bars, he said.
Jacobsen handed out a sheet predicting, "This project should return $15-25 million directly to the Montana economy by the end of the 18-month project. Five to 10 year returns are likely to be in the $100s of millions."
Joe Shaw, an MSU professor and OPTEC Center director, won $2.49 million to apply laser and high-tech optic technology to such areas as agriculture, medical imaging and micro fabrication.
Laser and optics research at MSU has already created a great economic boon, with more than 30 optics companies in the Bozeman area, Shaw said. It's created "really good jobs in a clean industry."
"This will be huge for students," Shaw said, by both creating research jobs at MSU and by letting students work with local companies, which are creating jobs. Earning a degree in science or engineering used to be a ticket to leave Montana for jobs elsewhere, he said, but a lot of students want to stay here.
At UM in Missoula, the governor announced a $1.29 million award to Chris Palmer, a chemistry professor, to develop new technology for monitoring water quality automatically, instead of by hand, said Janelle Booth, Montana University System research director.
A $2.23 million grant was awarded to Sarj Patel, a UM assistant professor, who is searching for better ways to diagnose and treat traumatic brain injury and concussions. Montana has the nation's second-highest number of traumatic brain injury cases.
The Research Advisory Panel that recommended the four projects included representatives from the Montana Grain Growers, Washington Companies, Swan Valley Medical, Republican state Sen. Llew Jones and Democratic Rep. Ryan Lynch, Cruzado, UM President Royce Engstrom and Christian.