By Troy Carter Chronicle Staff Writer – 10/9/2015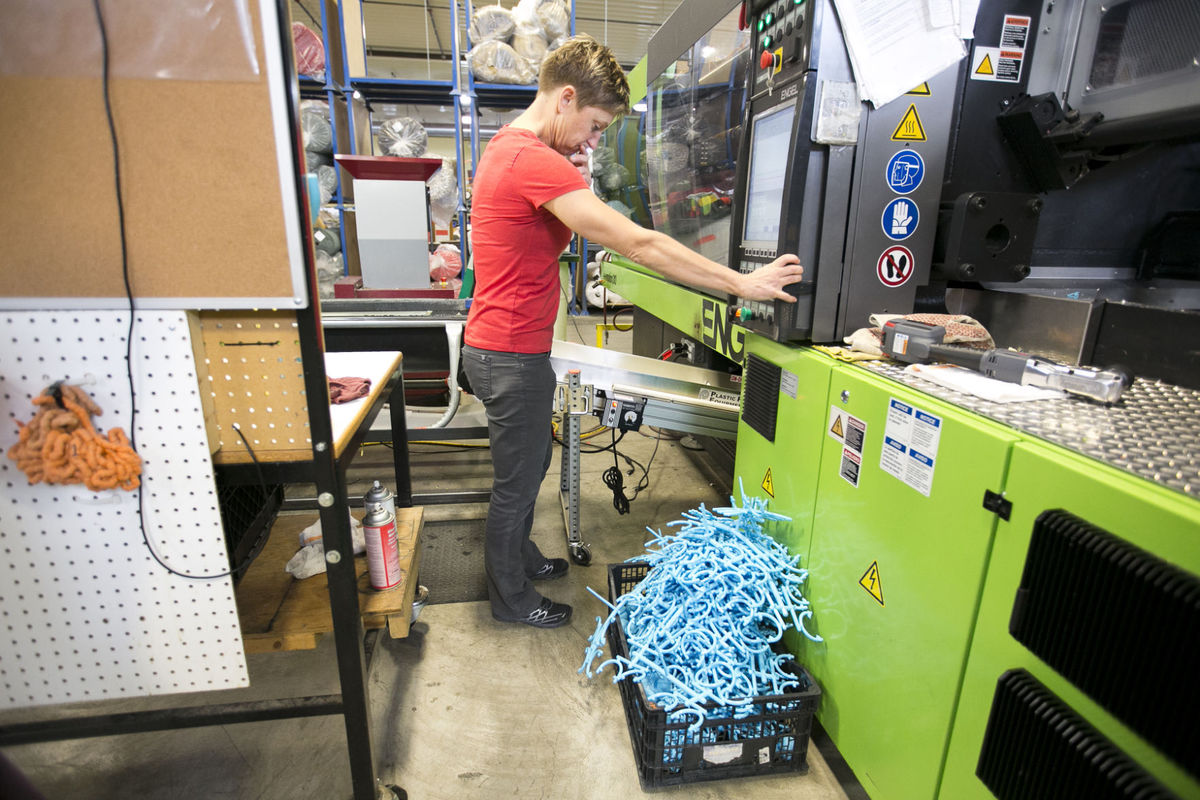 PHOTO BY ADRIAN SANCHEZ-GONZALEZ/CHRONICLE West Paw Design in Bozeman has been certified a benefit corporation for two years, after meeting environmental criteria such as using recycled materials for their toy stuffing, contracting with local vendors and becoming more transparent.

For the 70-plus employees at West Paw Design, their 'B' is a badge of honor.
The letter stands for B corporation, a certification which shows that a positive social or environmental mission is at the heart of the company.
On Thursday afternoon, they invited local businesses to celebrate Montana becoming the 29th state to legally recognize benefits corporations with local lawmakers and Gov. Steve Bullock. The party was packed.
"We certified as a B corp almost two years ago," said Spencer Williams, owner and president of the pet product company. "It came after years of research of figuring out where we want to align our business as we try to grow, where do we want to align ourselves with other businesses that can inspire us and help us have more impact."
The certification comes from a third-party nonprofit called "B Lab." In 2013, West Paw Design scored 95 out of 200 on its B Lab test, which looked at environmental practices, employee satisfaction, community impacts and governance. Companies are certified if they get 80.
"Once we got that assessment done we realized there were great things we were doing, but we could do so much more," Williams said. "We realized we were in a huge community of businesses that were driving for change globally. And that movement is where we felt at home."
But until the Legislature passed a bill, a Montana company couldn't take the additional step of amending its articles of corporation and be recognized as a "benefits corporation" before the eyes of the law.
Corporate law allows donations and philanthropy but only to the extent which it improves its standing with the public. Corporate executives have been required by law to base decisions on maximizing profits, especially in the sale of a company.
By codifying benefits corporations, Montana business executives can now make decisions in line with their organization's mission, even if not the most profitable, without the fear of being sued.
The 'B' branding allows customers to quickly know that a product is being sold by a company with a social mission. Plus, there's a growing pool of capital investors who like the idea of voting for moral companies with their dollars, said Williams.
That bill was sponsored by Bozeman Democratic Rep. Kathleen Williams and took effect Oct. 1. West Paw Design was the first to apply.
There is no tax benefit. And by becoming a benefits corporation, a company is promising transparency and accountability standards that traditional corporations lack.
"It does take a village to pass legislation in the environment we were in," Williams said. "West Paw was a fan all along. They came up both sessions…it's really been an honor."